HD-video, 25min, 2017
In long, silent film-like sequences, we are presented with different viewpoints of a container city.
Filmed from the outside, the architecture images are accompanied by sounds from the surroundings: wind, the chirping of birds, the sounds of cars passing by, etc.
After moving inside, our gaze is directed out the windows, while alternating audio samples from the documenta 14 – radio broadcasts (that was held in Athens at that time) are to be heard.
The correlation of a physical situation on the one hand and the possibility of a reception of a broadcasted major international event like the documenta on the other, forms the framework of the piece "Hearing about Athens", the radio being the linking element.
A local reception of an international format (glocalization).
german below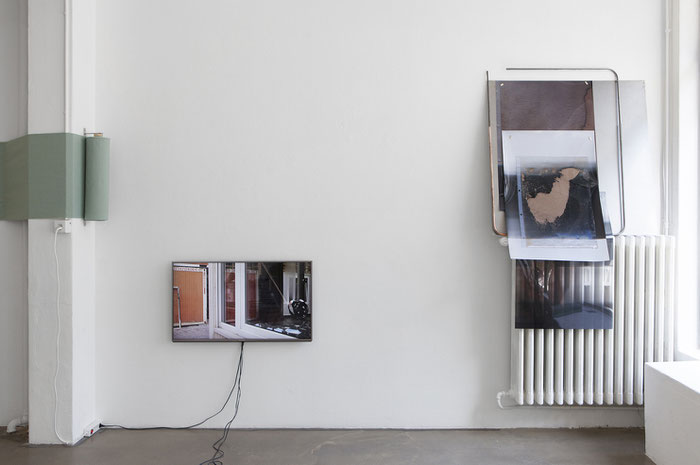 Installation view at Corner College, 2017
In langen ruhigen Film-Einstellungen erblicken wir verschiedene Ansichten einer Container-City. Die Bilder der Container-Architektur, gefilmt von außen, werden von der natürlichen Akustik der Umgebung begleitet: Wind, Vogelgezwitscher, vorbeifahrende Autos usw.
Beim Wechsel in die Innenräume schweift unser Blick aus dem Fenster, zu hören sind wechselnde Hörbeispiele des documenta 14 - Radios, die zu diesem Zeitpunkt in Athen stattfand.
Diese Verflechtung von physischer Verortung einerseits und der Möglichkeit einer medial aufbereiteten Rezeption internationaler Grossereignisse, wie der documenta, andererseits, ist der thematische Rahmen für die Arbeit "Hearing about Athens".
Das Radio ist dabei das verbindende Element. Lokaler Empfang eines internationalen Formats (Glocalisation)
macramé, feathers, fairphone, loudspeakers, 2017
Listening Sessions - collective radio listening sessions during the exhibition
The owl is one of the attributes of the goddess Athena. As such, it was used as a mascot for the
documenta 14. During a 6-hour-long listening session, a macramé owl was created as a mount for a smartphone that broadcasted the documenta radio. 
The colorful thread is usually used to bundle up old newspapers and magazines in Switzerland.
Analog media informing us about the world news.
german below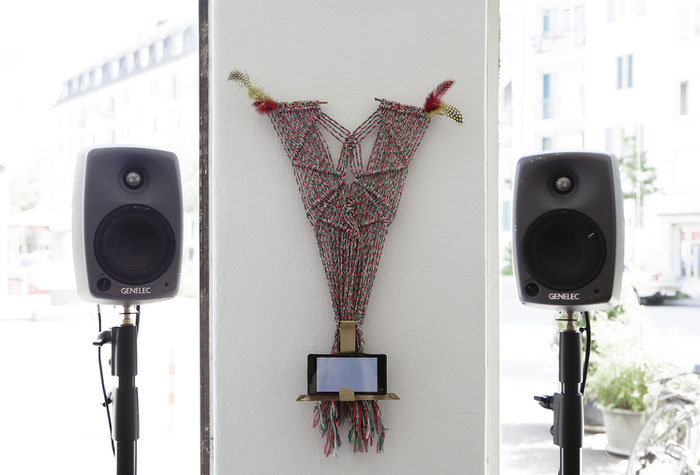 Installation view at Corner College, Zurich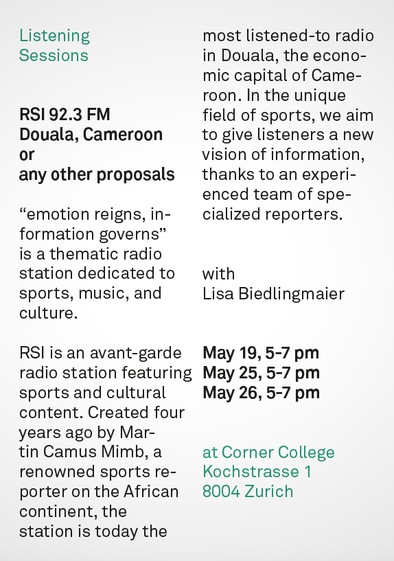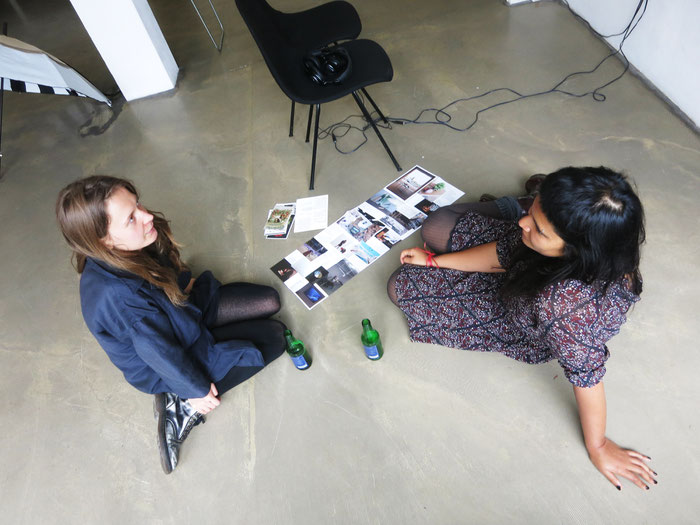 Listening Session at Corner College, Zurich, 2017
Listening Sessions – gemeinsames Radiohören während der Ausstellung, im Corner College, Zürich.
Die Eule ist ein Attribut der Göttin Athene und wurde von der documenta 14 als Maskottchen benutzt.
In einer 6-stündiger Listening Session entstand die Macramé-Eule, als Halterung für ein Smartphone, aus dem das Radio der documenta 14 ertönte.
Der bunte Faden wird in der Schweiz zur Entsorgung von Zeitungen und Magazinen verwendet. Die analogen Medien, die uns über die Geschehnisse in der Welt informieren.